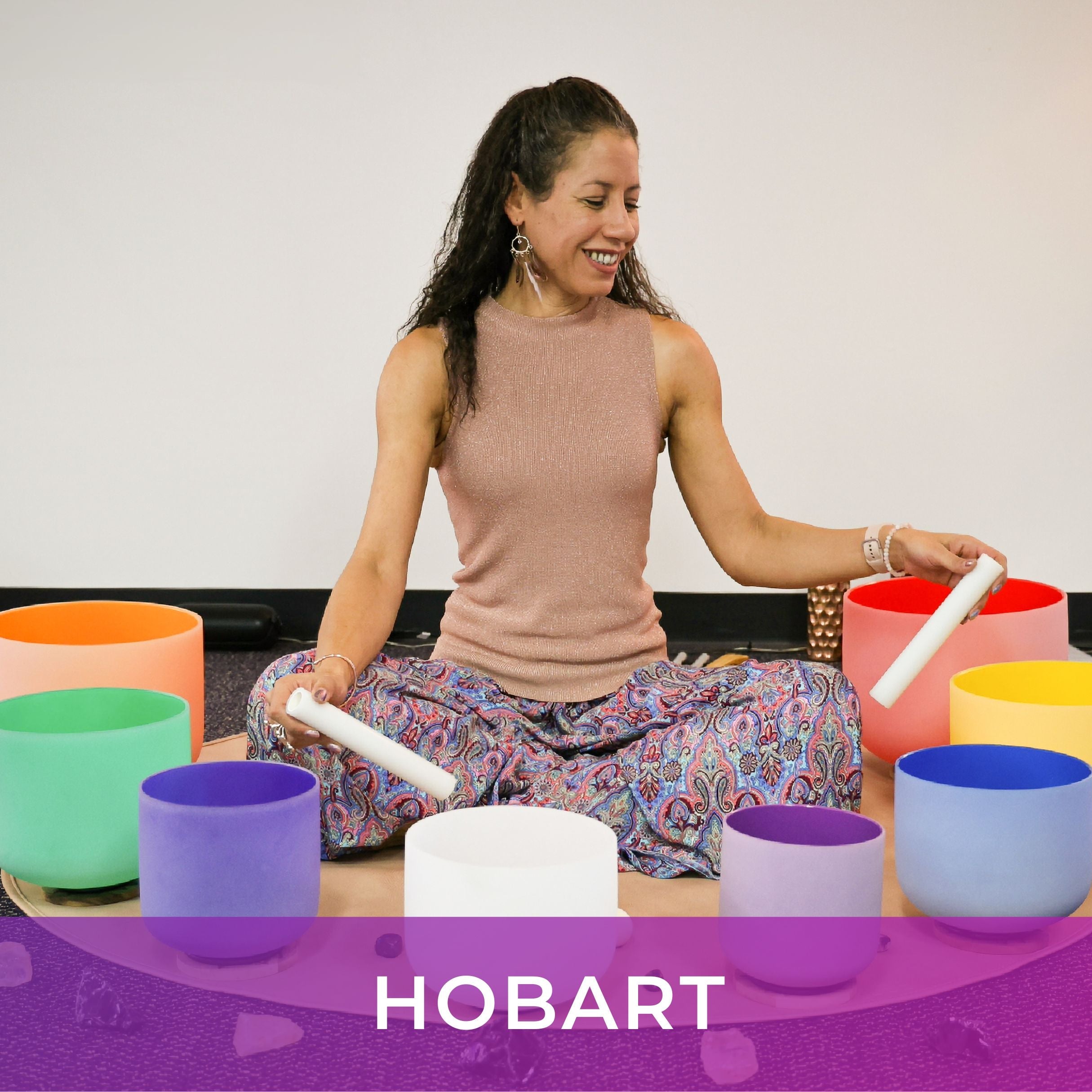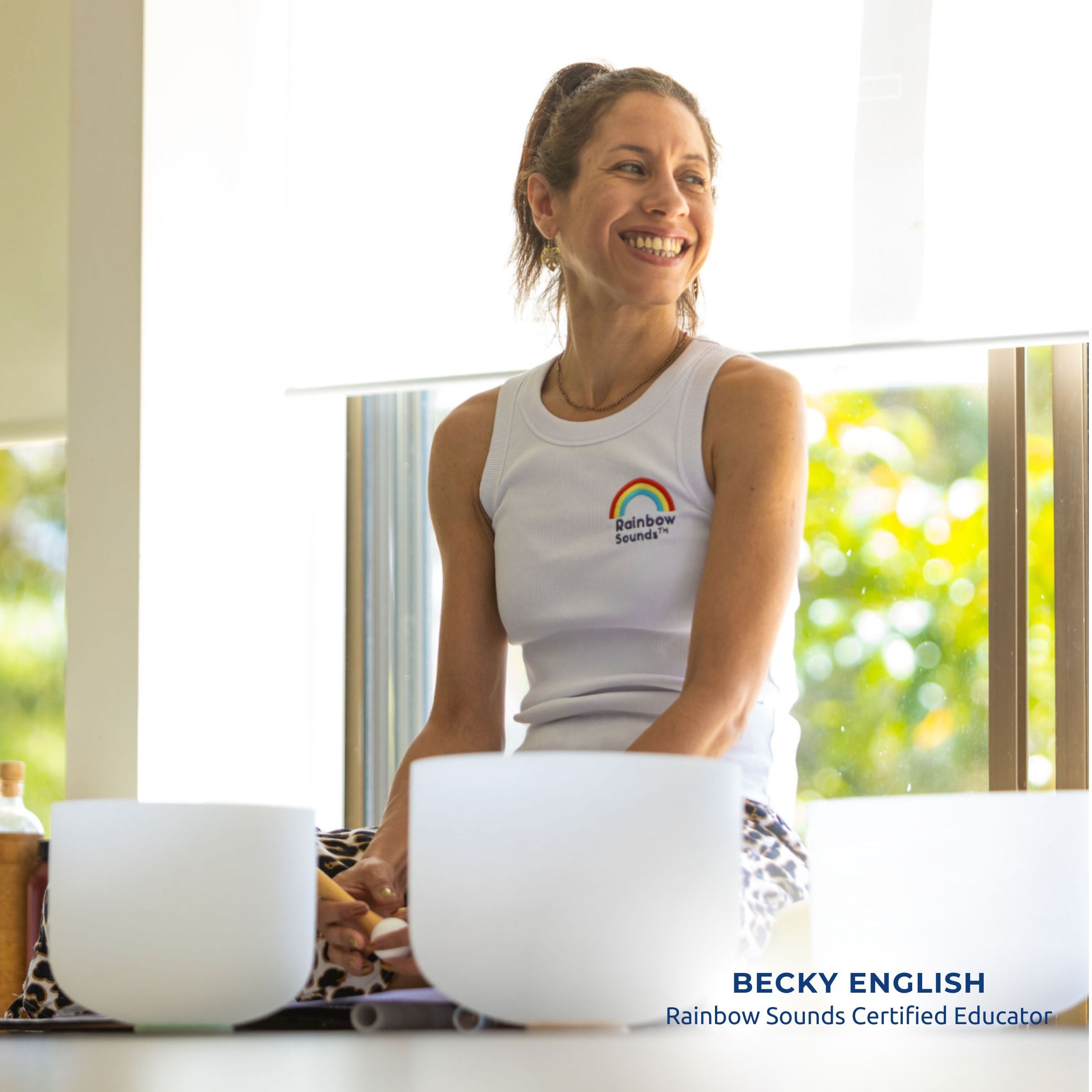 HOBART Jan 21 | Level 1 Crystal Singing Bowls Workshop For Beginners
Ticket Type:
Entry only - Borrow on the day
In stock
Level 1 Crystal Singing Bowls Workshop in Hobart, Tasmania
Learn & Explore the Magical World of Crystal Singing Bowls and Gain the Level 1 Rainbow Sounds Certification 🌈
Suitable for Beginners, Self-Healers, Yoga Teachers, Wellness Practitioners and Aspiring Sound Bath Practitioners new to Crystal Bowl Sound Therapy 
Workshop Details
Date/Time: Sunday, 21st January 2024 (10am - 2pm)
Location: Hobart Breathing Space – 13b Goulburn St, Hobart
Facilitator: Becky English (Rainbow Sounds Certified Educator)
All attendees receive the Rainbow Sounds 'Level 1 Certificate of Completion' 
Workshop Agenda – What You'll Learn
Part 1: The essentials
How to strike and sing the bowls
Wake up & close down process
Cleanse and care for your crystal bowl
The Chakras and musical notes relating to each bowl
Understanding Sound Journeys
Part 2: Science (how we can relate using crystal bowls back to science)
Brainwaves & frequency
Epigenetics
BioChemistry
Part 3: Sound, Space And Silence
What is the Healing harmonic code
Making space for change in your life
Listening to the sound that is in silence
Part 4: Practical Applications and Mindfulness
Working with crystal bowls in Ritual and with your breath to improve mood, anxiety, stress and shift energy and
How the crystal singing bowls relate to each energy centre in the body
We end the workshop with an Energy Balancing Sound Session that will leave you feeling amazingly connected to your oneness in the universe.
Ticket Options Explained
Entry Only - Borrow on the day

For Entry Only option, you can borrow a bowl on the day or bring your Rainbow Sounds bowls.
If you have bowls from elsewhere, we respectly ask that you leave them at home and borrow one for the class. As many bowls are played in the class, this ensures we don't have conflicting frequencies.

Ticket with Bowl 

For Ticket with Bowl option, you can choose any bowl available on the day (includes a rubber mallet). We'll have a variety of crystal singing bowls available – in white or colour and from 6" Crown to 12" Base/Root sizes – dependant on availabilities.
Please note we do not accept requests or preorders for this ticket option, it based on what's available on the day, and excludes Soul Star and Challis.
Tickets with Set of 3 or 7 Bowls + Bag Pre-orders
For Ticket with Set of 3 or 7 Bowls + Bag pre-orders, this is for our set of 3 and set of 7 bowls with bag(s). This is the best value if you intend on investing in a half or full set of bowls.
Once we receive your booking, we'll email you to confirm which style bowls (white or colour) and bags (beige or purple) you would like. If time allows, we'll send them to you ahead of time so you can try them out before the class ✨
Specials on the Day
We also offer workshop special prices available on the workshop day (it is not as cheap as the pre-orders but it is still discounted from our website retail prices). This is your opportunity to buy an extra bowl, start a collection or complete a set. Accessories will also be available at workshop special prices.
We accept cash, paypal, credit card or direct transfer on the day.
Once we receive your order, you'll be sent an order confirmation and an e-ticket. You'll also receive an email the week of the workshop with further details about the venue and what to bring etc.
Shipping Time
| | |
| --- | --- |
| Location | Shipping Time* |
| Australia (metro) | 3-10 business days |
| Australia (regional) | 6-15 business days |
| Australia (rural) | depending on location |
| New Zealand | 5-15 business days |
| USA & Canada | 8-15 business days |
| UK | 8-15 business days |
| Singapore, Japan, Hong Kong | 8-15 business days |
| All Other Locations | varies depending on location |
 
*Approximate times only. Unfortunately, unexpected delays can happen that are out of our control so shipping times cannot be guaranteed.
Shipping Costs
Shipping cost is automatically calculated at the checkout page, and is calculated based the size, weight and location of your order.
If no shipping cost is available for your order at the checkout page, please get in touch 🙂
Tracking
Tracking numbers/links are provided via automated emails from our system once your order has been dispatched. 
Australia and NZ orders are delivered via Australia Post, Startrack, Couriers Please or Aramax.
All international orders are delivered by Air.
Shipping Insurance
Rainbow Sounds pay for the first $100 worth of cover. If you wish to add insurance for your delivery, please request this before you order as additional costs will need to be added to your order. 
If an item arrives broken, you need to log a claim with us within 3 business day of the delivery being signed or accepted (see below).
Returns & Exchanges
We do not accept returns or exchanges. For manufacturer's defects, we offer exchanges within 7 days of receipt of goods. 
You must provide proof of purchase and the item must be unused and in the same condition that you received it. It must also be in the original packaging. 
Damaged Bowls in Transit
If your bowls arrived damaged from transit, you'll need to log a claim with us within 3 days of the delivery being signed or accepted.
How to log a claim:
1. Take a photo of the box to show damage
2. Take a photo of the broken bowl in the box before removing it
3. Take a photo of the courier slip addressed to you  
4. Email all images with your original order number to customer@rainbowsounds.co
5. In your email give any extra detail you can.
Waiting time for claims is 3-6 weeks – this is the time the courier takes to process claims. Your claim is with the courier and not with Rainbow Sounds, we just help facilitate it.