NDIS (National Disability Insurance Scheme) is now funding Sound Therapy! This means crystal singing bowls and sound training can be invoiced to NDIS for payment.
Navigating how this work can be challenging. So to make it easier for you, we've created a special 'Sound Therapy Pack' available for NDIS customers.
The Rainbow Sounds NDIS 'Sound Therapy Pack' includes:
• Set of 7 crystal singing bowls (choose from white or colour bowls) for sound meditation
• 2 carry bags in beige colour
• As well as: Mala Beads for meditation, Chakra cards pack, 2 mallets (rubber and silicone) and 7 o-rings for the bowls to sit on (white and black)
• Training (via Zoom) with Bianca from Rainbow Sounds (up to 3 hours depending on your requirements) and training workbook + meditation exercises
The training (via Zoom) can be tailored to you and your NDIS goals. For example, if you have/want to add a management plan for pain or anxiety, then we'll tailor your training to be specific to that.
To get started, see below for plan-managed or self-managed:
If you have a Plan Manager that manages your NDIS plan:
We'll send your order invoice to your Plan Manager for processing and payment. Be sure to talk to your Plan Manager about this so they can expect the incoming invoice from us.
Follow these steps:
1. Complete the form below with your details, your NDIS details and your order details.
2. Talk to your NDIS plan manager and let them know you'd like to include this as part of your NDIS plan. Ask them if you can have this included on top of your regular funding.
3. Once we receive your submitted form, we'll send your order invoice to your NDIS plan manager. But we'll contact you for any additional information if required.
4. Once payment is received for your order, we'll send the purchased items to you (as provided for your shipping address). We'll also contact you to organise a time for your online workshop.
Complete the form below.
If you're NDIS self-managed: 
You can purchase our 'Sound Therapy Pack' directly below:
Pack includes: Set of 7 crystal singing bowls, 2 mallets, 7 o-rings, 2 beige carry bags, mala beads, chakra cards pack, training (via Zoom) with Bianca from Rainbow Sounds (up to 3 hours depending on your requirements), training workbook + meditation exercises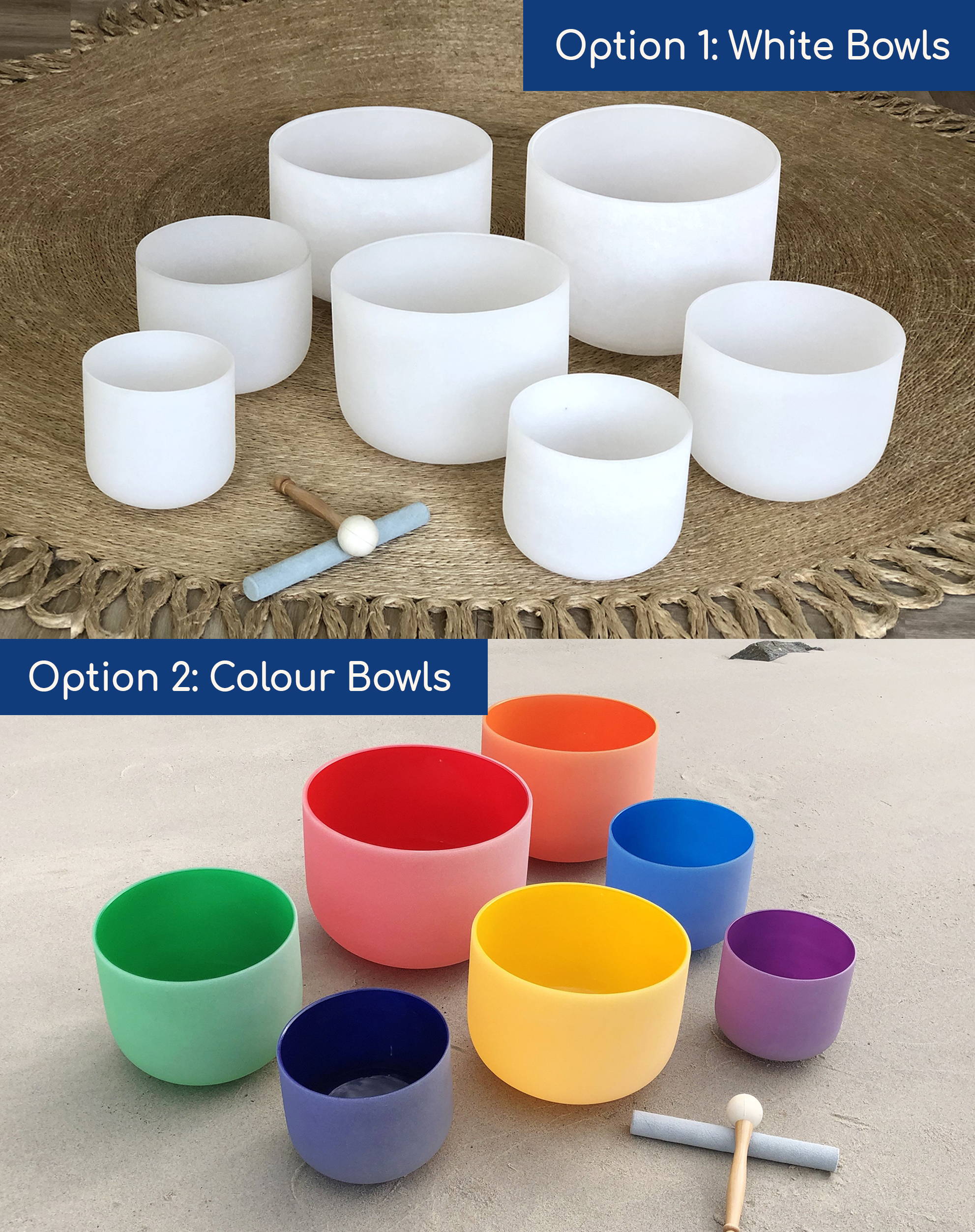 ---