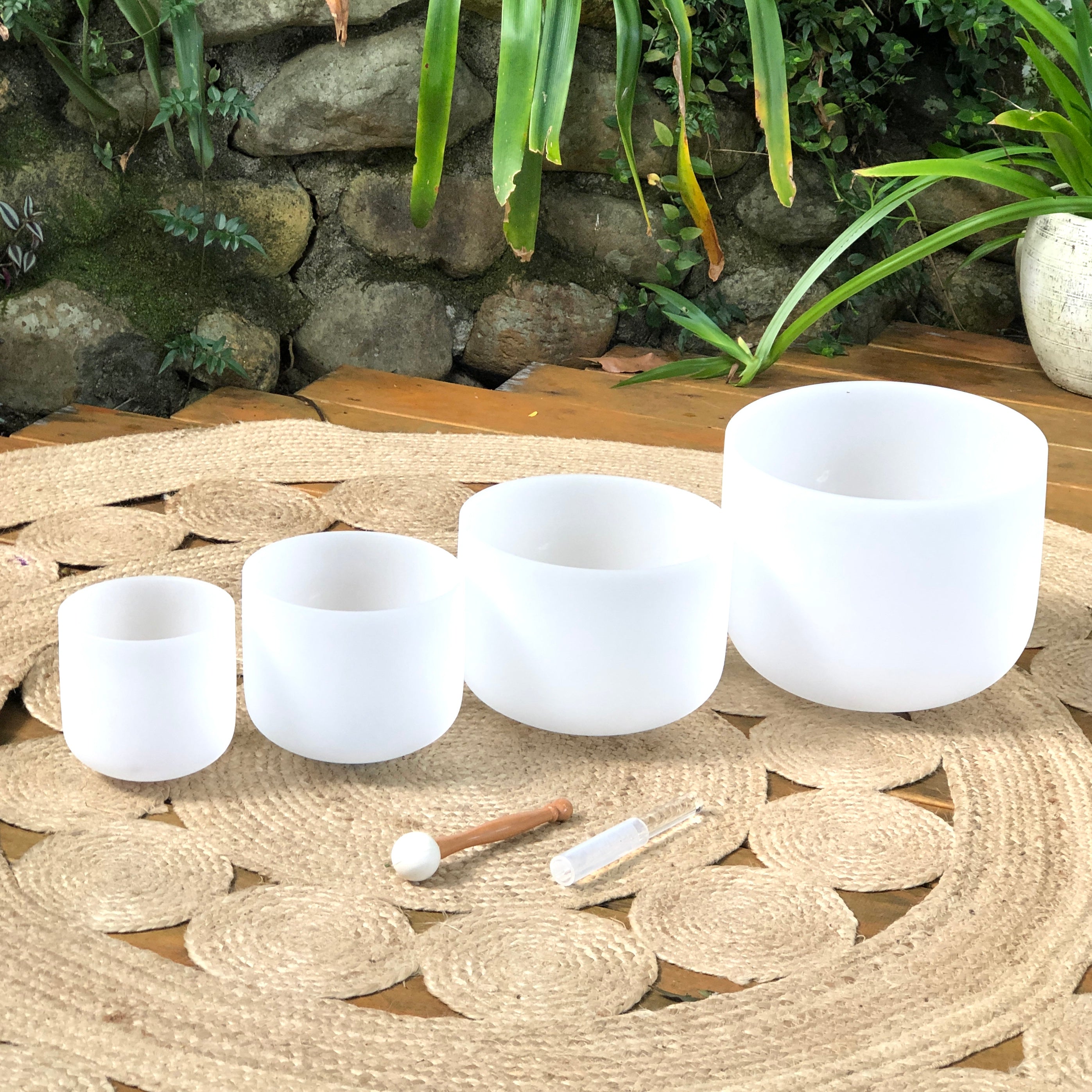 Set of 4 White Crystal Singing Bowls in Purple Bag
Set of 4 White Crystal Singing Bowls in Purple Bag
99.9% High Purity Australian Quartz
432hz Tuning Scale Frequency for optimal sound and vibrational healing

Signature Matt Finish on the outside to maximise sound purity 
This beautiful set includes 4 crystal singing bowls (for Root, Solar, Throat and Crown Chakras) and ranges in bowl size (6", 8", 10" and 12"). 
The related notes and details are:

Base/Root Chakra – 12" bowl, C note
Solar Plexus Chakra – 10" 

bowl, E note

Throat Chakra – 8" 

bowl, G note

Crown Chakra – 6" 

bowl, B note 
For easy identification, each bowl has the chakra symbol with the associated musical note printed inside.
What's included:
Set of 4 white crystal singing bowls 

12" purple carry bag and black nesting pouches
4 white o-rings and 4 black o-rings (for the bowls to sit on)
2 mallets (1 rubber mallet, 1 silicone mallet)
Care instructions
Packed securely and safely for their transit
We recommend to purchase the carry bag with your bowls to keep your bowls safe at home or on your travels.
*Note: Actual product colours and printed chakra colours may vary from the images shown. Please read below for more information about our bowls.
*10% discount is automatically applied to your order when you have an online course and any bowl set added to your cart
------

WHY CHOOSE RAINBOW SOUNDS

™

BOWLS?
(A few words from Bianca from Rainbow Sounds)
1. We Design and Make Our Own Bowls
Well firstly, what a lot of people don't know is that we design and make our own bowls with our own production team. We are not just a distributor. I am very particular myself and need to know the tools are producing correct musical notes, at the right frequencies, and at the high quality and high purity that I expect. And that's how I design our bowls, and continue to do so each production run. And always made and produced with love and kindness 💖
2. High Purity Australian Quartz
We respect and honour the quartz and are so proud to be able to make our crystal singing bowls with High Purity Australian Quartz 🐨 – sourced from quartz sand deposits that are made by nature every year (i.e. not mined) and are in abundance. High Purity means our bowls have a much longer sound resonance, and it's the sound thats healing (that's why it's called Sound Healing).
3. Signature Finish - Smooth & Matt
When I designed these bowls, I wanted them to be easy for customers to play. Unlike the frosted bowls you commonly find (which makes it hard to play), our bowls have our own Signature Finish – it's smooth and matt on the outside. This allows for much better sound purity and also minimises the drag on the mallet.
4. Tuned 432hz Scale
Our crystal singing bowls are tuned from 432hz scale, this means the sound is more harmonious to our ears and thus into the cells in our body.
5. Final words...
It's the hard work and dedication to the craft that keeps our crystal singing bowls a step above the rest, with a nice long resonance of sound.
Please keep in mind that our crystal bowls are made in a kiln by humans, with love and kindness. While they are made to a musical instrument standard in sound, they are finished by hand, and may have some slight inconsistent grooves or surface finishing, as not each product is the same. 
The quartz bowls all have their own unique expression and often if you find 1 or 2 dots in your bowl it could be a tiny piece of magnetite rock that does not wish to part with the quartz. We allow this imperfection and honour the quartz. 
For our colour bowl range, each bowl is made to our specifications at the time. As we make bowls every quarter we may change the tint of colour based on what raw materials are available. For example, some yellow is bright and sometimes its 2 subtle shades darker 😁
This is how you know we make each item to our specific needs and not just mass produced many bowls for the sake of it.. each Rainbow Sounds™ bowl is made to a musical instrument standard sound resonance and always, made with love and kindness. 
With love and gratitude 🙏
Bianca xo
Shipping Time
| | |
| --- | --- |
| Location | Shipping Time* |
| Australia (metro) | 3-10 business days |
| Australia (regional) | 6-15 business days |
| Australia (rural) | depending on location |
| New Zealand | 5-15 business days |
| USA & Canada | 8-15 business days |
| UK | 8-15 business days |
| Singapore, Japan, Hong Kong | 8-15 business days |
| All Other Locations | varies depending on location |
 
*Approximate times only. Unfortunately, unexpected delays can happen that are out of our control so shipping times cannot be guaranteed.
Shipping Costs
Shipping cost is automatically calculated at the checkout page, and is calculated based the size, weight and location of your order.
If no shipping cost is available for your order at the checkout page, please get in touch 🙂
Tracking
Tracking numbers/links are provided via automated emails from our system once your order has been dispatched. 
Australia and NZ orders are delivered via Australia Post, Startrack, Couriers Please or Aramax.
All international orders are delivered by Air.
Shipping Insurance
Rainbow Sounds pay for the first $100 worth of cover. If you wish to add insurance for your delivery, please request this before you order as additional costs will need to be added to your order. 
If an item arrives broken, you need to log a claim with us within 3 business day of the delivery being signed or accepted (see below).
Returns & Exchanges
We do not accept returns or exchanges. For manufacturer's defects, we offer exchanges within 7 days of receipt of goods. 
You must provide proof of purchase and the item must be unused and in the same condition that you received it. It must also be in the original packaging. 
Damaged Bowls in Transit
If your bowls arrived damaged from transit, you'll need to log a claim with us within 3 days of the delivery being signed or accepted.
How to log a claim:
1. Take a photo of the box to show damage
2. Take a photo of the broken bowl in the box before removing it
3. Take a photo of the courier slip addressed to you  
4. Email all images with your original order number to customer@rainbowsounds.co
5. In your email give any extra detail you can.
Waiting time for claims is 3-6 weeks – this is the time the courier takes to process claims. Your claim is with the courier and not with Rainbow Sounds, we just help facilitate it.